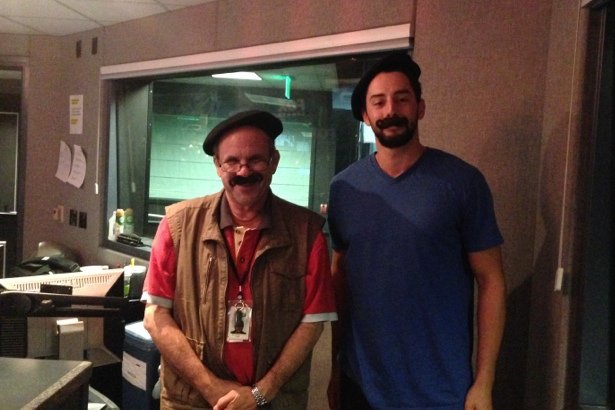 There are few days on the calendar that get me as fired up as Super Bowl Sunday. The six-month buildup, a period that encompasses innumerable radio hits, columns read, numbers crunched, fantasy musings delivered, game reviews and shows hosted, funnels directly into a frenetic final week.
And this week leading up to Super Bowl 50 was, predictably, exhausting and exhilarating. I rolled into San Francisco last Monday with Jason Smith, Justin Frosburg and a host of scheduled appearances and interviews. We rolled through the week, mixing in Glazerpalooza festivities, great conversations with the Moscone Center security and SF Police (and the FBI – full week review to come under separate cover) and embracing our new friends and time with our FOX Sports colleagues.
On Sunday, I walked to a San Francisco radio station with Dan Beyer to put the proverbial bow on a fantastic week. We were thrilled. We were going full-throttle Super Bowl talk, including prop bets, stories from the week and everything to whet the appetite of a football-crazed audience. Producer Ryan Musick was back at the controls in our Los Angeles studios. We were set.
And we did our best to do so with our stomachs churning and quivering voices, fearful of what would later be confirmed by our leader, Don Martin. Our Technical Producer of FOX Football Fantasy and my longtime collaborator in the Sunday morning slot, Uncle Frank Polak, had passed away.
I got teary as I pondered our eight years together while waiting on my flight home from SFO. I'm sure I annoyed my family with the number of hugs I doled out throughout Super Bowl 50. It was balanced by the fact that I didn't do quite so much yelling with my mind otherwise occupied.
In addition to his work on our show, Frank controlled the board for FOX Sports Daybreak with Mike North and Andy Furman. Their interactions were a well-oiled machine, replete with the charm of dated pop culture references and sound drops.
We became good friends, and Frank would come to our family holiday gatherings and BBQs. A number of things floated through my head as I thought about my friend today. They're in no particular order.
I'll miss Frank's …
Weekly pink box of deliciousness. He brought us donuts every Sunday morning, often prompting fights among the staff about early donut choices.
Fishing Tales. In Frank's world, the fish never got away.
Passion for fishing and his boat. We always had one monitor tuned in to a fishing program and I'd get the terminology & backstories for each angler.
Tales of his work with disadvantaged youth through his fishing clubs. He'd be beaming while telling tales about introducing kids to fishing and the events they held each year.
Cornball one-liners.
Friendship and long conversations over coffee and breakfast at the local diner or wings during football Sundays.
Love of his job and sage advice about the industry. Frank and I shared many moments marveling about having the ability to talk sports and punch buttons as our professions.
Vast LA Sports knowledge (his Dodgers and Kings) and the prideful stories of working for the Lakers for a long period. He had 10 (maybe 100) stories for every jewel on his Lakers championship ring.
Love of The Three Stooges & screwball comedy. Some didn't get it, but it was a bonding thing that hearkened back to my youth.
Help and enthusiasm in constructing the "Au Contraire Mon Frere" bit on our FOX Football Fantasy Show — complete with berets.
Recall moments with our bumper music – be it my musical heroes (The Afghan Whigs or some 70's balladeer), nods to Chicago or a song that punctuated a comment made earlier in the show. Frank was always listening, always active and always working to make sure we put our best foot forward.
He was a beloved character in our live theater of the mind. My colleagues will line up another 1,000 memories and stories.
That studio just isn't going to be the same.