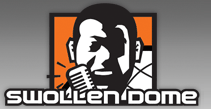 These might be my favorite bits from "Late Night" with Jimmy Fallon. Whenever he bridges the sarcasm and wit with music, good things happen. Just go find the Neil Young bits. Here's the third iteration of "Tebowie," where Fallon pays tribute to the quarterback while donning David Bowie-like garb from the 70s.
We saw the rise of Tebow and "Tebowing" in the first iteration with "Space Oddity." It continued with "Ziggy Stardust" and led to the newest bit, a take on "Rebel, Rebel."
I want to see additional sequels in the pipeline.