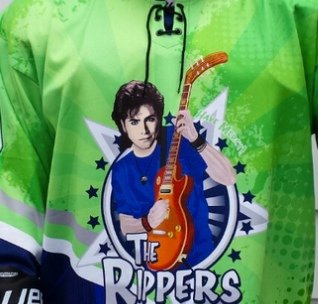 I caught this on "The Big Lead" the other day and chuckled quite a bit. Listeners of "The Jason Smith Show" on FOX Sports Radio know of my affinity for commemorative jerseys, theme nights at Minor League Baseball stadiums and the fun side of sports. Every time I see something about "Star Wars" night, "Bacon" night and such, I have to pay tribute to the marketing teams.
Well, here's another brilliant option from a men's hockey team in Pennsylvania. The fictional band "Jesse And The Rippers" from "Full House" is honored on this sweater. The design includes a giant picture of John Stamos and numerous references to the television show.
Check out the Full House Sweater.