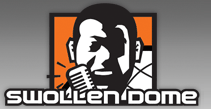 You fully expect Houston workhorse Arian Foster to appear among the leaders in the touch count summary. He led the league with 391 touches in 2012. "RoboBack" Adrian Peterson finished second with 388 touches, and the other members of the top nine are hardly a surprise.
Most fans and fantasy owners would not recall the heavy workload amassed by BenJarvus Green-Ellis, who was the last of the 300-touch players. In the top-30 slide below, you'll see a number of surprise entries. Did you think that C.J. Spiller got to 250 touches? Or that Darren McFadden still rolled up 258 touches despite injuries?
Perhaps most intriguing is that the Broncos placed two running backs inside the top 30, as Willis McGahee and Knowshon Moreno combined to log 352 touches.
Here's a one-year snapshot. Look for the expanded data sets on SwollenDome.com as the week continues.
Tags
2012 NFL Leaders
,
2012 Running Back Touch Leaders
,
Adrian Peterson
,
Arian Foster
,
BenJarvus Green-Ellis
,
C.J. Spiller
,
Darren McFadden
,
Draft Guide
,
Fantasy
,
Fantasy Football
,
Harmon
,
Knowshon Moreno
,
Mark Ingram
,
Mike Harmon
,
NFL
,
Shonn Greene
,
Swollen Dome
,
SwollenDome.com
,
Touch Counts
,
Touch Leaders