The dust has finally settled on Super Bowl LII from Minneapolis. All of the confetti has been cleaned up and the analysis of each play has been filed to the hard drives.
OK, the dust got kicked up a bit one week after the event when the Colts lured offensive coordinator Frank Reich away from the Eagles. Reich and head coach Doug Pederson called a gutsy game that took down Matt Patricia's New England defense and gave Philadelphia its first Super Bowl victory.
We anticipated that the Colts would be hiring a Super Bowl coordinator, but this was certainly a curveball that resurrected thoughts about the game and the preceding week.
For the uninitiated, Super Bowl week combines all of the best of the sporting world. You have a marketplace of commerce (sponsors galore) and sound bytes on radio row. In 2014, the Super Bowl traveled to New York/New Jersey. I helped set the scene in an article Zach Schonbrun wrote for The New York Times.
Besides Radio Row and that pesky football game (and this year, the endless barrage of social media notices reminding you of the Minnesota cold), there are parties upon parties. All during the week, the excitement builds as media members, flown-in celebrities and locals clamor for entry into the hottest nightlife experiences. You're talking A-list celebrities as party attendees and some combination of singing, dancing and DJ work.
Some of these events have been running for decades. The explosion of the Madden video game franchise has made the annual Madden party one of the premiere events of the week. Playboy, Rolling Stone and DirecTV are all players in the massive entertainment smogasbord. Jennifer Lopez and Dave Matthews Band were among the performers getting fans primed for the Super Bowl.
The menu for "The Players Tailgate" party could certainly be described as a smorgasbord as well. It was everything you'd expect in gastronomic overload, particular when you see Guy Fieri's name attached. He's a regular at Super Bowl events, and this one's become a regular part of the schedule. Reporter Dan DeBaun posted this shot of "The Players Tailgate" hosts Charissa Thompson and Guy Fieri on his Twitter account @mspbjDeBaun.
You can follow the Minneapolis-St. Paul Business Journal on Twitter @MSPBJnews.
And the Maxim Super Bowl Party remains a staple on the calendar. Again, you're talking A-list entertainment and libations in a prime spot. You've got Cardi B, marshmello and Post Malone warming up the Minneapolis night. Check out the arrival of Kansas City Chiefs tight end Travis Kelce. His outfit is far more understated that the celebratory garb worn by his older brother Jason as part of the Eagles' victory celebration. Perhaps he'll go next level and channel some of his brother's style should the Chiefs ascend to the crown next year.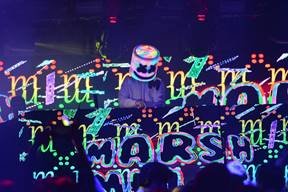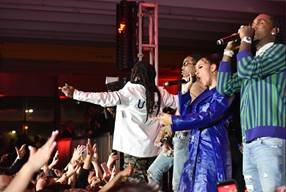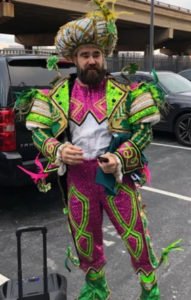 While we've got a full calendar to churn before the next Super Bowl week of festivities, the party circuit moves to Los Angeles for the NBA All-Star Game. It'll be interesting to see what festivities bubble up …
Tags
blu
,
Boczarski
,
Cardi B
,
Charissa Thompson
,
Chef Aaron May
,
Chef Akira Back
,
Chiefs
,
Co-sponsored by blu
,
Daniel Boczarski
,
Dave Matthews Band
,
Eagles
,
FSR
,
Guy Fieri
,
Harmon
,
Jason Kelce
,
Jennifer Lopez
,
Kansas City Chiefs
,
marshmello
,
MAXIM
,
MAXIM Magazine
,
Maxim Party
,
Migos
,
Mike Harmon
,
NBA All-Star
,
New England Patriots
,
Patriots
,
Philadelphia Eagles
,
Post Malone
,
Swollen Dome
,
SwollenDome.com
,
Travis Kelce