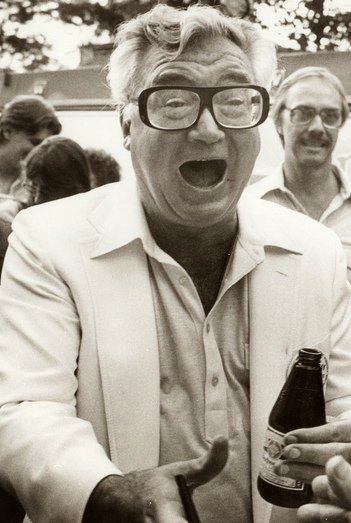 I know that this story has now been shared and posted all over the blogosphere. Given my Chicago roots, it's a story that resonates with me and turns back time to "afternoons with Harry" on WGN-TV. I grew up on the South Side, a White Sox fan, but day baseball and stories from Harry Caray were a staple.
Everyone has an image of legendary broadcaster Harry Caray, and Chicagoans have memories of great calls, flubbed calls, the energy he brought to the ballpark and perhaps a run-in around town.
I had the chance to meet Harry briefly once as he was dropped off outside of Wrigley Field. It was a brief encounter, but I relished the chance to meet a legend. He was also being aided along by two beautiful woman. Harry would not deign to use a walker or a cane. No, he arrived in style.
Recently, some of Harry's handiwork was uncovered by the CEO of the Harry Caray's restaurant chain and examined by Chicago Sun-Times writer Neil Steinberg. He reviewed Harry's 1972 diary. The diary didn't include sentimental musings, but rather accounts of bar trips and bar tabs.
Luminaries such as Wilt Chamberlain and Don Drysdale appear in the listings, and "The Streak" is documented. This was early in Caray's tenure with the White Sox, and he logged an improbable, incredible drinking streak of 288 days. I'm still speechless and perhaps a bit envious some 24 hours after the story's release.
Check out the full Sun-Times account here.