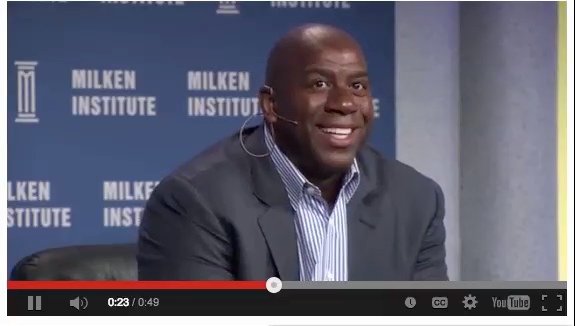 In the aftermath of NBA commissioner Adam Silver's historic announcement of Donald Sterling's banishment from the league, a number of luminaries stepped forward to express their interest in becoming the new owner(s) of the Clippers. We've heard from Oprah Winfrey, Floyd Mayweather, Dr. Dre and Diddy, among others.
One other legendary Los Angeles figure had been silent on the matter since the posting the following Tweet.

Earvin "Magic" Johnson was involved in a panel discussion at the Milken Institute Global Conference. Moderator Jim Gray asked Johnson point-blank about his interest in the franchise.
"I will be owning an NBA team sometime."
Listen to the full audio of the exchange with Gray and Magic.
Here's the account from The Hollywood Reporter
Tags
Adam Silver
,
Clippers
,
Diddy
,
Donald Sterling
,
Dr. Drew
,
Floyd Mayweather
,
Harmon
,
Jim Gray
,
LA Clippers
,
Los Angeles Clippers
,
Magic Johnson
,
Magic Johnson Would Be Interested In Clippers
,
Mike Harmon
,
Milken Conference
,
Milken Institute Global Conference
,
NBA
,
NBA Ownership
,
Oprah
,
Oprah Winfrey
,
Ownership
,
Swollen Dome
,
SwollenDome.com
,
Tweet
,
Twitter