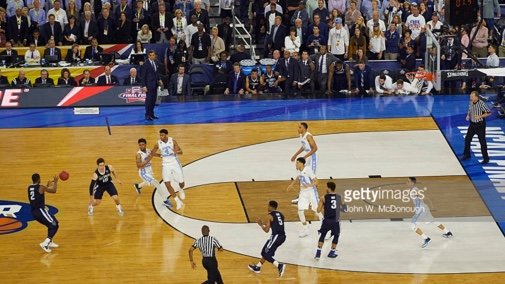 We capture big moments in a special way on The Jason Smith Show on FOX Sports Radio. And there may have never been a bigger moment than Ryan Jenkins' three-point shot to send the Villanova Wildcats to their first title in 30 years.
But it was Ryan Arcidiacono that set the table for that monumental shot by pushing the ball quickly up the court, flummoxing the North Carolina defense that readied for a drive into the lane. Instead, Arcidiacono read the defense and passed it back to the trailing Jenkins for a squared-up, long-range shot. Jenkins may have ended the "Crying Michael Jordan" meme for good while generating a new sensation (more on that in a separate post).
It's funny. I called Arcidiacono a "read-option" quarterback on the play, expertly drawing the defense until making the pitch to Jenkins. He used that word – "read" – in describing the play when Arcidiacono joined The Jason Smith Show on FOX Sports Radio.
We talked with Ryan about the set-up of the play, Carolina's defensive choicees, his emotions and those of Coach Jay Wright. Check out the link above for our conversation.